Communication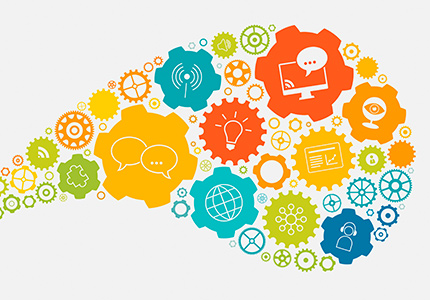 The California Community Colleges Technology Center publications team pursues excellence in outreach, marketing, and communication support of multiple regional and systemwide technology projects.
The CCC Technology Center supports the following communication projects:
TechEDge, System Technology Newsletter

Tech III Strategic Planning

CCC Chancellor's Office Communication and Marketing

Marketing and communication support is also provided to the following projects:

CCCApply: the online gateway to the California Community Colleges

eTranscript California: statewide Internet-based transcript exchange

California Accelerated Pathways (CAP)

LISTSERV® for statewide and regional organizations

California High School Exit Exam "Stepping Into Your Future" (CAHSEE) Project

CCC Transfer Counselor website

Online Teaching Conference

ePortfolio California

The Real Game California

Community Based Online Learning
An expanded description of the primary communication efforts of the Technology Center follows:
CCC TechEDge, System Technology Newsletter:
CCC TechEDge, the system technology newsletter, provides current information about systemwide technology efforts and the people bringing cutting edge technology to the the California Community Colleges. From May of 2003 to June of 2009, the CCC TechEDge newsletter was printed quarterly with additional, special issues per year. Since January 2010, TechEDge is entirely online.
Its audience includes distance educators, information systems officers, business leaders, the California legislature, and the entire CCC technology community. The newsletter is a collaborative project with oversight and direction provided by the Chancellor's Office and from interviewees and story subjects throughout the state. The newsletter website is at http://ccctechedge.org.
Systemwide Technology Strategic Planning:
The Tech IV Strategic Plan is being developed as a wiki-page to facilitate collaboration and stand up a 'living document' that can respond to rapid change in the technology environment.
The Tech III Strategic Plan was developed concurrent to the CCC System Strategic Plan (SSP) through an extensive consultation process with CCC technology leaders statewide. With the SSP as its guiding framework, Tech III provides a roadmap for CCC systemwide information technology (IT) efforts. Tech III intends to convey how coming changes in IT will power new learning dynamics and overcome formidable challenges facing the CCC and all of higher education in our nation today.
The Technology Center provides support in editing, copy, design, and publication in both printed and electronic formats of the Technology III Strategic Plan and its annual update. The Technology III 2007-2010 strategic and tactical plan was developed by the Technology, Research, and Information Systems Division of the CCC Chancellor's Office to support the CCC System Strategic Plan, which was adopted in 2006. The updated plan is distributed to key individuals statewide and is available online from the Chancellor's Office website.
CCC Chancellor's Office Communication and Marketing:
The Technology Center provides communication and marketing support to the CCC Chancellor's Office according to direction. Past projects have included the CCC Technology Awards Program Annual Brochure and the Annual Telecommunications and Technology Infrastructure Program (TTIP) Report to the California Legislature. The Technology Center also reports to the CCC Chancellor's Office regularly in mid-year and end-of-year reports.